9 Best Hose Reels in 2023: Different Styles Reviewed
(This post may include affiliate links. While buying items through these links won't increase your cost at all, we may receive a small commission that helps keep this site up and running. See our Terms and Conditions page for more details)
It's likely happened to all of us at one time or another: You're tired after watering the yard or garden, and you cast the hose aside into an out-of-the-way corner instead of coiling it up properly. And then the next time you go to water, you've got a muddy, grubby hose that may have picked up an annoying kink.
I've had this same struggle, and it makes watering harder than it needs to be. Once I wised up and hooked up my hose to a reel, things became easier to manage, the hose stayed in better shape and it wasn't a trip hazard anymore.
So today I'm sharing with you what I learned and the products that I think are some of the best hose reels on the market. I'll cover them in 3 main categories:
Freestanding
Wall mounted (including the best retractable garden hose reel)
Wheeled carts
After going over the ins and outs of each model, I'll also share some shopping tips to streamline your search. 
Let's dive in!
RELATED: If you're in the market for a new hose to go along with your hose reel, check out this post of our durable garden hoses!
Best Freestanding Hose Reels
1. Giraffe Tools Metal Hose Reel Box
**Best Overall Freestanding Hose Reel
Dimensions: 20 inches long, 16 inches wide and 17 inches tall
Weight: 30 pounds
Maximum hose length: 150 feet of 5/8 hose, 200 feet of 1/2 inch hose
Material type: Metal frame with aluminum connection hardware
With an elegant bronze finish and simple construction, this hose reel hides your hose away in style while also offering reliable functionality. 
Thanks to a sliding hose guide hole on the reel's front panel, your hose rolls back up in smooth layers with no twisting or cross-threading. The top panel also swings open, so you can ensure your hose is rolling up properly, make any small corrections or easily connect/disconnect your hose.
A 5-foot, leak-resistant leader hose makes it a snap to hook your reel up to the water spigot.
The metal frame is strong and can withstand extreme temperatures, making it ideal for a variety of climates. Giraffe Tools also put a protective coating on the metal, so it better resists rust and the elements.
One this to be aware of: This reel is designed to hold 1/2 inch and 5/8 inch hoses, but it will not accommodate 3/4 inch hoses.
PROS
Attractive bronze finish
Siding guide hole lays hose down evenly
Hinged top panel for easy access
5-foot leader hose
24-month warranty
CONS
Does not accommodate 3/4 inch hoses
2. Yard Butler Free-Standing Hose Reel
**Best Freestanding Hose Reel Runner-Up
Dimensions: 12-inch round base, 25 inches tall
Weight: 13.2 pounds
Maximum hose length: 200 feet
Material type: Welded steel wire
If you have problems bending or kneeling, low-profile freestanding hose reels could present a challenge when it's time to roll your hose up. 
Even though this model isn't much taller than some others, Yard Butler wisely situated the handle in a higher position. For most people, this design should translate to less need to bend over while you reel your hose in.
I also really like the fact the top portion of the reel rotates a full 360 degrees. This feature comes in very handy when you're moving about and watering different parts of your garden. 
The round base provides a stable foundation that won't rock or tip over when you feed out more hose length. Also, the lightweight frame makes  it easy to move your reel to another location if you want. 
This reel is a fantastic choice for using on a patio, deck or other solid foundation. However, you'll likely run into some tipping problems if you try to use the base on bumpy surfaces like grass or gravel. If you prefer, you can skip the base and permanently mount this reel into the ground with concrete. 
PROS
Ideal for decks and patios
Rotates 360 degrees
Portable
Option to mount into the ground
CONS
May not work well on uneven surfaces
3. Suncast Wicker Style Resin Hose Hideaway
**Best Budget Freestanding Hose Reel
Dimensions: 22.4 long, 21 inches wide and 21.5 inches tall
Weight: 18 pounds
Maximum hose length: 225 feet of 5/8 inch hose
Material type: Industrial plastic and brass fittings
In my opinion, you get a lot of helpful, good-quality features in this hose reel at a great price point.
Suncast made this reel out of UV-resistant industrial plastic, so there's no reason to worry about rust or breakdown from harsh sun and the elements. I also like the decorative look of the wicker pattern- it adds a nice finishing touch while still being simple.
The Smart Trak feature automatically rolls your hose up smoothly and easily. And the reel has a surprisingly high storage capacity, about to house up to 225 feet fo 5/8 hose. That's quite a bit- probably more than most residential lots will actually use.
One thing to point out: The Smart Trak feature is built to accommodate hoses that are approximately 5/8 inch, and it likely won't work well or at all with hoses larger than 3/4 inches in diameter.
This hose reel comes fully assembled and ready-to-use right out of the box, so it's ideal of you want to be able to put it to work right away. Also, Suncast offers a 3-year warranty on this hose reel, which is nice for some extra peace of mind.
PROS
Affordable price point
Weather-resistant material
No assembly required
3-year warranty
CONS
Does not accommodate large-diameter hoses
Best Wall Mounted Hose Reels
4. Liberty Garden 709 Steel Wall/Floor Mounted Hose Reel
**Best Overall Wall Mounted Hose Reel
Dimensions: 16.8 inches deep, 22.3 inches long and 16.8 inches tall
Weight: 14.5 pounds
Maximum hose length: 200 feet of 5/8 inch hose
Material type: Powder-coated steel with brass fittings
This reel from Liberty Garden takes top billing in the mounted category thanks to a well-built, heavy frame and high storage capacity.
The reel itself is made from 13-gauge alloy steel with an industrial powder-coat finish, so it resists rusting and the beating of the natural elements. I also like the understated tan color that should look nice with most home colors.
A large handle and smooth turning mechanism make reeling your hose in a breeze. The generous reel drum can hold up to 200 feet of 5/8 inch hose- more than sufficient for most residential properties.
Even though its primary use is as a wall-mounted hose reel, Liberty gave this reel a versatile design that you could opt to use on the ground as a freestanding reel.
One more interesting feature is the built-in metal hose connection point. Instead of a flexible leader hose that most reels use, this one has a metal spigot-like connection point that won't leak or break off. It's a clever idea, and it works great for standard hoses. But if you have a large-diameter hose or one with a reinforced outlet, it may be hard to connect it to the reel.
PROS
Heavy-duty steel construction
Smooth reeling action
High storage capacity
No-leak connection point
Can be used as a mounted or freestanding reel
CONS
May not accommodate large-diameter hoses/connections
5. Liberty Garden Navigator Multi-Direction Hose Reel
**Best Wall Mounted Hose Reel Runner-Up
Dimensions: 18.6 inches deep, 20.3 inches long and 22 inches tall
Weight: 15 pounds
Maximum hose length: 125 feet
Material type: Steel frame with powder coat finish, brass fittings
With a cool, industrial look, this hose reel is vaguely reminiscent of an old-school fire station. Despite its old-fashioned look, though, this hose reel offers all the conveniences modern gardeners need. 
In my opinion, one of the best features is the 360-degree swivel. The reel itself is suspended from the frame with a strong arm and solid brass pin. Since brass is rust- and corrosion-resistant, your pin should stay in good working order for the long haul. 
If you want to set your reel in a certain position instead of a free pivot, a pull-up knob on the top of the arm lets you lock your reel in one of 8 positions. 
The large reel spins easily, and when teamed up with the smooth pivot, feeding more hose from your reel is a breeze. When it comes to reeling your hose back in, the spinning handgrip makes your task easy and comfortable. 
A small wire basket keeps garden essentials within easy reach. The reel comes fully assembled, and you'll only need to install 3 screws to mount your reel to the wall. However, the mounting screws are not included, so you'll need to make a separate purchase. 
PROS
360-degree rotation and 8 fixed-position settings
Strong materials and solid construction
5-foot leader hose included
Upper storage basket
CONS
Mounting hardware is not included
6. Giraffe Tools Retractable Garden Hose Reel
**Best Retractable Wall Mounted Hose Reel
Dimensions: 22.8 inches deep, 17.6 inches long and 20.47 inches tall
Weight: 28.4 pounds
Maximum hose length: 130 feet
Material type: Polypropylene casing and aluminum plated brass fittings
Some retractable hose reels rely on battery power to pull your hose back in, but Giraffe uses a spring-loaded retracting system. I really appreciate how this construction eliminates charging batteries or running out of battery juice.
The kink-proof guiding system has ceramic technology applied to it which will prolong its life. Giraffe claims this technology will give a 400% lifespan increase compared to their normal guides.
What's really nice is the stop-anywhere locking mechanism which allows the hose to lock as soon as you stop pulling on it. When you need to feed out more hose, just apply some gentle forward pressure.
Even though this hose reel is durable enough to stand up to rain, wind and sun, you'll need to store it in a sheltered area during the harsh winter months. Fortunately, they provide a quick-release system to easily remove the reel.
This video from Rooted Lawn Co. provides a demonstration of this reel on a mid-sized yard:
One problem with this reel is the mounting bracket that's made of heavy-duty plastic. The reel is a little heavy so it would have been nice if the mounting was made of metal.  If you're hanging this reel up, make sure to find a surface that's attached to a stud.
PROS
Retracts with no battery
Detachable reel housing
Lock any hose length you want
Includes a 2-year limited warranty
CONS
Mounting hardware should be metal for the weight
Best Hose Reel Cart With Wheels
7. GroundWork Hose Reel Cart
**Best Overall Wheeled Hose Reel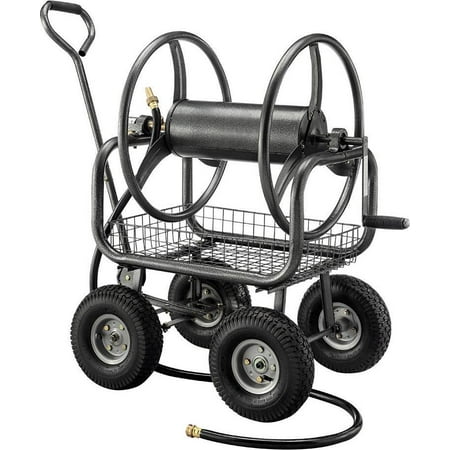 Dimensions: 42.5 inches long, 19.7 inches wide and 38.19 inches tall
Weight: 46.24 pounds
Maximum hose length: 400 feet
Material type: Tubular steel frame with powder coat finish and brass fittings 
Wheel/tire type and size: 10-inch no-flat tires with metal rims
When you need a hose reel that's at the top of the heavy-duty list, this model from GroundWork delivers. 
There are a couple of features that really make this cart stand out:
An impressive 400-foot hose capacity. If you've got a long way to trek around the yard or garden, this will come in handy. 
Pivoting front axles that allow for effortless steering, much the same as a traditional wagon. This can be especially helpful if you have to steer around corners or the edges of curving beds.
A handy storage basket for toting small tools
GroundWork made the tires from a no-flat material, and the large size easily rolls over bumps and ruts. 
Surprisingly, this ultra-tough cart is narrower than many of the competitors. This shape doesn't interfere with the reel's maximum capacity, also helps make the cart more easily maneuverable. 
Since the unit itself is quite heavy at almost 50 pounds, you'll likely appreciate each of these features when you're on the move. 
PROS
Exceptional frame strength
Can accommodate extra-long hoses
Pivoting front axle and easy-steer handle
Built-in storage basket
8. PayLessHere 4-Wheel Garden Hose Reel Cart
**Best Wheeled Hose Reel Runner-Up
Dimensions: 37 inches long, 24 inches wide and 42.9 inches tall
Weight: 41.25 pounds
Maximum hose length: 300 feet
Material type: Steel alloy with powder coat finish
Wheel/tire type and size: 10-inch pneumatic rubber tires
You've got to admit it: The brand name PayLessHere definitely draws your attention! The good news is that this hose reel has several nice features to offer in addition to an attractive price point. 
Standing 42.9 inches, this is the tallest hose reel in this review group. I really like that the extra height makes it easy to pull your cart along without having to hunch over. A layer of grippy handlebar padding is another nice touch.
Four large, air-filled rubber tires make crossing almost any type of terrain a breeze. And the wire storage basket is a handy place to set your hose nozzles or other outdoor necessities. 
You can store up to 300 feet of 5/8 inch hose on this reel and the heavy steel frame stays steady whether you're feeding hose out or reeling it in. 
The assembly process isn't overly difficult, but you need to make sure you follow the correct order of steps. If you tighten down the frame hardware before fully assembling the drum, you're likely to run into a headache. 
PROS
Can accommodate long hoses
The tall handle is easy to grasp and pull
Handy wire storage basket
Large, pneumatic tires
CONS
Assembly can be a bit tricky
9. Suncast Hosemobile Garden Hose Caddy
**Best Budget Wheeled Hose Reel
Dimensions: 24.5 inches long, 24.5 inches wide and 24.5 inches tall
Weight: 12 pounds
Maximum hose length: 175 feet of 5/8 hose
Material type: Heavy-duty plastic
Wheel/tire type and size: 6-inch molded plastic wheels
For those who favor a 2-in-1, the Suncast Hosemobile offers you the mobility of a hose reel cart and the stability of a freestanding model- all at an affordable price point.
When you want to use the Hosemobile as a stationary reel, the front support bar creates a stable base that won't roll away while you're busy watering the plants. 
If you plan to move your hose reel to different areas, the easy-grab handle and rear 6-inch wheels make the task simple. And at just 12 pounds in weight, rolling your Hosemobile won't cost you too much energy.
A specially-designed connection system is easy to set up and prevents leaks between the reel housing and your hose. 
One concern is that the lightweight frame tends to rock or bounce a bit as you're reeling your hose in. Suncast addressed this issue with a small step plate that extends off the front support bar. While effective, using the step plate does restrict your movement somewhat. 
PROS
No assembly needed
Lightweight and easy to move
Strong plastic won't rust
No-leak connections
CONS
Using the step plate while reeling the hose in can be awkward
How to Choose the Best Hose Reel
No one option is going to be the best fit for every gardener, and it really comes down to personal preference and your own yard/garden layout. To help you sort through the options, let's break it down by the particular benefits of each hose reel category. 
Freestanding
Freestanding hose reels typically offer the functionality you need on the smallest scale.
You may prefer a freestanding hose reel if:
You have a small yard or garden. If your outdoor space is at a premium, a hose reel with a smaller footprint can help you free up as much space as possible. Also, if you don't have an extensive outdoor space to tend to, you likely don't want to deal with a hose that's longer than your needs call for. Freestanding reels typically have lower hose storage capacities and may be more manageable.
You like a decorative look. While there are a few exceptions, many wall mounted and cart-style hose reels are primarily built for performance. On the other hand, several freestanding models incorporate aesthetic details along with their functional features.
Wall Mounted
Wall mounted hose reels offer a few unique advantages over freestanding or cart models, and they may be the ideal choice if:
You don't want to deal with a hose reel on the ground. With your hose reel mounted on the wall, it will stay well out of the way of dirt or mud splatters. Attaching your reel to the wall also keeps your hose safely out of the way and can help prevent tripping. 
You want a self-retracting option. Although there are a few freestanding models that offer retraction,, the best retractable garden hose reel options tend to be wall mounted versions. Retractable hose reels are a convenience for any gardener, but they can be especially helpful for seniors or people with a disability. In fact, we think it's such a great fit that we included it in our post where we review ergonomic gardening tools that would be helpful to seniors.
You want zero bending or kneeling. One of the best aspects of wall mounted reel is that you can customize your reel's height to your preference. This gives you complete control in placing your reel at a comfortable standing height. 
Hose Reel Cart with Wheels
Usually the most heavy-duty options available, a hose reel cart with wheels makes it easy to transport long, heavy hoses. 
If any of these points are true for you, a cart may be your best bet:
You need to accommodate a very long hose. Garden hose reel carts can typically hold at least 300 feet of standard 5/8 inch hoses. (For comparison, freestanding and wall mounted models typically hold somewhere between 150-200 feet.)The addition of wheels to your hose reel cart is a lifesaver when it's time to put your hose away for the winter. 
You want the flexibility to use your hose with various water outlets. With easy-rolling wheels and steering handles, a hose reel cart comes out as the obvious choice if you want any significant degree of portability. 
How Do Garden Hose Reels Work?
A garden hose reel serves 3 purposes:
Keep your hose neatly wound up when not in use
Make it easy to feed out hose length while watering
Reduce the work of winding your hose back up afterward
Regardless of type, all garden hose reels share a few of the same basic features:
A drum: The round tube that the hose wraps around and the surrounding whee
A winding mechanism: This can be either a manual hand-crank or a self-retracting feature. 
Metal fittings: The hardware pieces (commonly aluminum or brass) that attach your garden hose to the reel. Both of these metals resist rust and typically don't corrode when they come into contact with other metallic materials. 
A connection point to your water source: Referred to as a leader hose, this piece is connected to the reel drum on one end and has a spigot attachment on the other end. Most leader hoses are between 3 and 6 feet long. The length determines where you can set up your garden hose reel relative to your water source. 
Guide feature: The guide is a small hole that the hose passes through on the way in and out, and it helps to ensure that your hose lies down in flat, even rows. Not all garden hose reels offer a guide feature, so if it's on your wish list, be sure to check if the specific model you want has it. 
Frequently Asked Questions about Hose Reels
Final Thoughts
I hope my experience and research in making this list of the best hose reels has been helpful for you.
Watering your yard or garden may not be optional, but struggling to lug a heavy hose around totally is! So don't make your outdoor work harder than it has to be. By taking advantage of the help of a garden hose reel, you can accomplish your tasks faster and enjoy the process more. 
How about you? Have you tried more than one type of garden hose reel, and which one was your favorite? Do you have any other questions or suggestions to offer? 
I'd love to hear from you in the comments!