Best Walk Behind Leaf Blowers: 5 Top Choices for 2023
(This post may include affiliate links. While buying items through these links won't increase your cost at all, we may receive a small commission that helps keep this site up and running. See our Terms and Conditions page for more details)
The best walk behind leaf blower is the Champion Power Equipment 200947, thanks to a powerful engine, durable construction, adjustable air direction, and proven track record of dependable performance. Massive leaf piles, pesky acorns, light snow- you name it, this blower makes your outdoor work fast and easy.
While the Champion Power Equipment model won our list of best walk behind leaf blowers, there are other great options on the market too. In this post, I'll walk you through 5 of the top models, with details about each one and what makes it stand out. You'll also learn about the key features to watch for while you're shopping for a walk behind leaf blower, and you'll get some input from my expert garden/lawn-care colleagues as well.
Let's get started!
Best Walk Behind Leaf Blowers: Product Reviews
I'll cover each of these products in detail, but if you're short on time, here's a quick overview of the key specs:
Champion Power Equipment 

200947

224 cc

4-stroke OHV engine

208 cc

4-stroke Briggs & Stratton engine

209 cc

4-stroke

OHV engine

305 cc

4-stroke Briggs & Stratton Vanguard

26.8 in long, 35.9 in wide, 47.4 in tall

43.5 in long, 22 in wide,

45 in tall

41 in long, 20.2 in wide, 38.25 in tall

58 in long, 29.5 in wide, 45 in tall

44 in long, 17.5 in wide, 41.25 in tall

8-in front tire,

12-in rear tires

8-in front tire,

12-in rear tires

8-in front tire,

12-in rear tires

10-in front tire,

13.5-in rear tires

7-in front tire, 10-in rear tires

3-year limited on engine,

5-year limited on housing
CFM and MPH: What They Mean
Before getting to the products, I want to clearly define a couple of key performance specs I'll be referring to many times.
CFM: Cubic Feet per Minute. This refers to the volume of air the blower puts out at the terminal end of the chute.
MPH: Miles per Hour. This is the speed at which the air leaves the terminal end of the chute.
Both specs are important, and they work together. Ideally, you want both of these numbers to be pretty high to effectively clear leaves and other debris.
Think of it this way:
Even if the volume of air (CFM) is large, it won't move much if it's traveling at a low speed. Picture a breeze blowing- it can be a large mass of air, but it doesn't disturb much because it's blowing so gently.
On the other hand, even if the air is moving quickly (MPH), it still won't move much if it's just a small air mass. Think air being shot out of an air gun- it's moving fast, but you can't blow away a large pile of leaves because you just don't have the mass.
So CFM and MPH are two different things, but they're both necessary.
1. Champion Power Equipment 200947
**Best Overall Walk Behind Leaf Blower
Maximum CFM: 1300
Maximum MPH: 160
Engine Size and Type: 224 cc 4-stroke Champion Power Equipment OHV engine
Dimensions: 26.8 inches long, 35.9 inches wide, and 47.4 inches tall
Weight: 104 pounds
Noise Rating: 85 dB
Self-Propelled: No
Tire Size and Type: 8-inch airless rubber tire, 12-inch airless rubber rear tires
Swiveling Front Wheel: Yes
Fuel Capacity: 0.8 gallons
Warranty: 2-year limited warranty
The Champion 200947 comes in at the top spot for best walk behind leaf blower- and it wasn't even close. It's not only a great product, but it's one of the more affordable options on the list too.
First, this model has been on the market for quite a while, so it's proven itself to be a solid piece of equipment for several years. Purchasing a walk behind leaf blower isn't a trivial amount of money, and you want to make the smartest investment that you can.
This blower packs a 224 cc engine that delivers 7.5 horsepower. You're getting 1300 CFM at 160 MPH- which should be more than enough power to clear lawns, driveways, parking lots, or other surfaces easily. Typically, most blowers that produce 600 CFM can clear wet leaves (usually the bane of the yard-clearing task), so you should be able to obliterate them in a single pass. And as far as acorns, pinecones, or light snow- it's not even a question.
One very nice thing is that you can have the front wheel in either the swivel setting or in a fixed-forward position. Lock the front wheel in place if you have a long straightaway to clear, or release it to swivel 360 degrees to navigate corners and curves. Keep in mind that this is a bulky piece of equipment that weighs over 100 pounds, so the ability to tailor your steering to the task at hand can save you a lot of hassle.
For another point of adjustability, you've got three positions to choose from on the wind vane:
Straight outward
15 upwards
15 degrees downwards
Have you ever noticed that not all debris is created equal? Some things- like gravel or acorns- you want to push straight ahead to gather into a centralized area. Wet leaves, on the other hand, are often easier to dislodge when the air is blasted downward at the base of the leaf mass. So it's really nice that you can tailor the air direction to exactly the angle you need it.
Also important are a couple of notable points about the handlebar construction. Especially if you're working on bumpy surfaces (like a large lawn often is), the handlebars and encased in a rubberized material that helps you keep a safe grip and also absorbs some of the shock before it makes its way up to your hands and arms. So you might not have to rub on muscle-soothing cream this time even after spending the afternoon cleaning up the property!
One thing I do want to highlight if your property is sloped- this machine is heavy. While the swiveling/fixed-front wheel lets you use whichever position works best, it still takes some energy to push the blower up and control it on the way down.
Champion's promo video gives a nice visual demonstration of the blower's features:
NOTE: Champion Power Equipment also offers model #100730, and it's easy to confuse with model #200947 that's featured here. We chose to highlight model #200947 due to it being on the market for a long time with a proven track record. Both models have similar specs/performance, and if you'd like to learn more about model #100730, it's available on Amazon and Acme Tools.
PROS
High CFM and MPH
Clears any type of debris easily
Adjustable wind direction
Shock-absorbing handle
Affordable
CONS
Heavy weight makes it challenging to use on steep slopes
2. Billy Goat F602X Leaf Blower
**Best Overall Runner-Up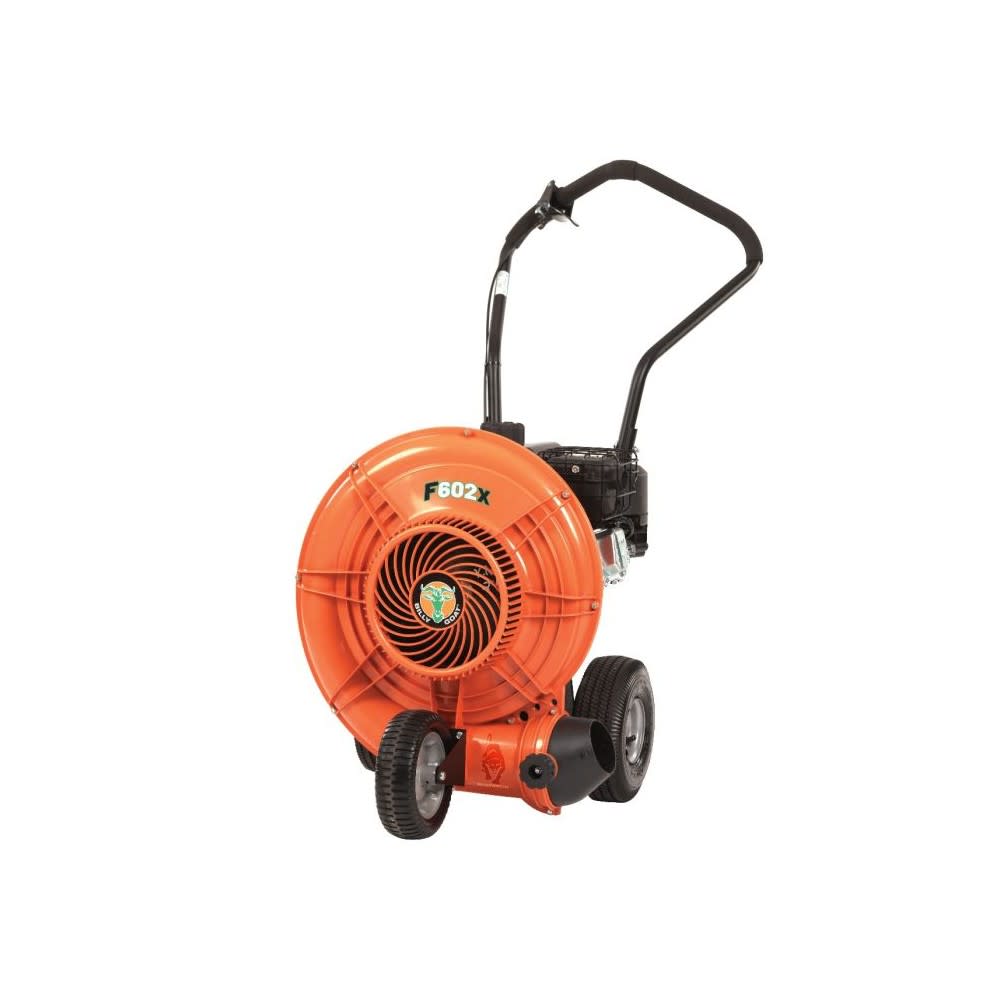 Maximum CFM: 1090
Maximum MPH: 195
Engine Size and Type: 208 cc 4-stroke Briggs & Stratton engine
Dimensions: 43.5 inches long, 22 inches wide, and 45 inches tall
Weight: 83 pounds
Noise Rating: 89 dB
Self-Propelled: No
Tire Size and Type: 8-inch front tire, 10-inch pneumatic rear tires
Swiveling Front Wheel: No
Fuel Capacity: 0.8 gallons
Warranty: 2-year limited warranty
Lightweight, easy to handle, and made right here in the USA: if these are some of your top priorities in the best push leaf blower, the Billy Goat F602X beats the competition by a landslide.
Billy Goat was founded in 1967 and is located in Lee's Summit, Missouri, where they design and manufacture their extensive product line. With that kind of history and commitment to domestic production, Billy Goat is a brand you can feel good getting behind.
Besides the benefit of being made in America, the Billy Goat F602X is just plain a great piece of equipment. The 208-cc engine is produced by Briggs & Stratton, a name that carries plenty of credibility all on its own. You've got about 6 horsepower equivalent in this blower.
The blower fan has 16 blades that work together to produce a shocking amount of airflow. At just shy of 1100 CFM and nearly 200 MPH, you can easily sweep away leaves, sticks, small stones, acorns, and other debris in a single pass. And weighing in at just 83 pounds, that's a ton of performance packed into a lightweight frame.
One cool feature that saves your time and aggravation is Billy Goat's handlebar-mounted Aim and Shoot air direction control. If you're moving along the site and suddenly run upon a stubborn pile of wet leaves or other tough debris, adjust the wind angle to dislodge it without interrupting your work or skipping a beat.
This video from Billy Goat gives a few more details:
As one of the smaller blowers in Billy Goat's lineup, this one is ideal for properties up to about 0.25 acres. Think residential areas, parking lots, driveways, things like that. But if the area you're clearing is larger than that, you'll probably want a little more power.
PROS
Powerful engine for effective clearing
Made in the USA
Lightweight design
Ideal for smaller properties
Point-and-shoot discharge
CONS
Not suitable for large areas
3. Yardmax YF1565 Walk-Behind Power Blower
**Best Budget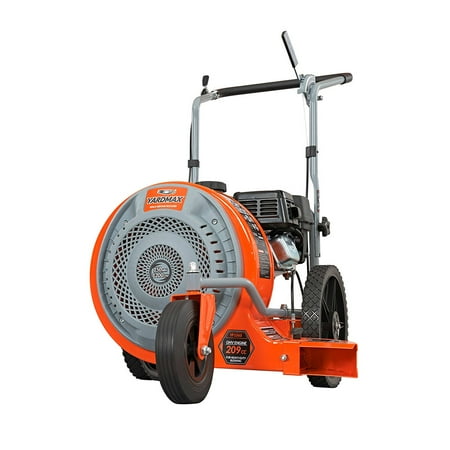 Maximum CFM: 1200
Maximum MPH: 150
Engine Size and Type: 209 cc 4-stroke OHV engine
Dimensions: 41 inches long, 20.19 inches wide, and 38.25 inches tall
Weight: 88.4 pounds
Noise Rating: 76 dB
Self-Propelled: No
Tire Size and Type: 8-inch airless rubber front tire, 12-inch semi-pneumatic rubber rear tires
Swiveling Front Wheel: Yes
Fuel Capacity: 0.68 gallons
Warranty: 2-year limited warranty
A walk behind leaf blower is a significant investment, but maybe you don't have to spend as much as you originally thought. For the money, you're going to be hard-pressed to find a more powerful leaf blower with a nice assortment of features than the Yardmax YF1565.
This blower produces 1200 CFM at 150 MPH. That's not too far off from the leader, the Champion Power Equipment 200947, but priced a couple hundred dollars less (at the time that this post was published).
That's more than enough power to clear wet or dry leaves, sticks, gravel, light snow, and other yard debris. And you can aim that airflow right where you need it with seven angle settings located conveniently on the right side handle.
Trying to push a blower over bumps and ruts in the yard is never really all that fun. But with large tires and an overall lightweight frame, you shouldn't have to spend too much energy making your way around your property. Also, Yardmax encased the handles with anti-vibration cushioning, so those jolts get softened before they reach your hands and shoot up your arms.
You won't have to make any awkward three-point turns to get your yard with the 360-degree swiveling front wheel. It's a caster style with a ball bearing, so it spins easily. And it's set far forward from the engine housing, lowering your center of gravity and making the whole machine more stable and easy to control.
The only downside to the swivel wheel is that you cannot lock in a forward position. If you have a long, straight stretch in front of you, you'll have to correct manually if you veer off course.
While you can't call this leaf blower commercial-grade, it's a great choice for homeowners on lots up to about 0.25 acres or so.
PROS
Affordable price point
High CFM and MPH
Multiple airflow angle settings
Smooth swiveling front wheel
4. Billy Goat F1002SPV Force Blower
**Best Heavy-Duty
Maximum CFM: 1700
Maximum MPH: 200
Engine Size and Type: 305 cc 4-stroke Briggs & Stratton Vanguard engine
Dimensions: 58 inches long, 29.5 inches wide, and 45 inches tall
Weight: 143 pounds
Noise Rating: 89 dB
Self-Propelled: Yes
Tire Size and Type: 10-inch front tire, 13.5-inch pneumatic rear tires
Swiveling Front Wheel: No
Fuel Capacity: 0.9 gallons
Warranty: 3-year limited warranty on engine, 5-year limited warranty on housing
This one is a beast! And it takes the top billing for best commercial walk behind leaf blower.
Is the thought of pushing a heavy leaf blower around a spacious property already making your back hurt? That's what Billy Goat thought too, so they added a very helpful self-propelled drive to their F1002SPV Force leaf blower.
With a maximum speed of 2.7 MPH, you'll be moving along at a pretty good clip on the straightaways. So besides sparing your back, you might also be looking at gaining some time on getting that big clearing task done. Just be aware that the self-propel only goes forward- if you need to back up, you'll have to use your own elbow grease.
Coming in with a whopping 10 horsepower equivalent, this is one of the larger models in Billy Goat's line. The engine is manufactured by the renowned Briggs & Stratton company, and this blower has an engine from Briggs and Stratton's Vanguard commercial-grade line. That means incredible power that's enough for a professional landscaper or groundskeeper, or for the homeowner who lives on a large property.
That large engine produces a lot of airflow, 1700 CFM, which reaches speeds of about 200 MPH at the terminal end of the 4-inch discharge chute. A handlebar-mounted Aim and Shoot air direction control makes it easy to aim that air stream exactly where you need it on the fly.
Not surprisingly, that incredible power comes from heavy-weight components, making this blower weigh close to 150 pounds. But thanks to the self-propel, you'll barely even notice.
Like all Billy Goat products, this blower is proudly made in the USA, in Lee's Summit, Missouri. That's a major point in this blower's favor, in my opinion.
If you've got an area up to 1 acre in size to care for, this is the blower you want for the job.
The only downside to point out is that a swiveling front wheel would have been nice- this is a heavy blower, and maneuvering around corners can be tiring.
PROS
Incredible powerful engine
High CFM and MPH
Commercial-grade construction
Self-propelled for easy use
Made in USA
5. Southland SWB43170 Gas Powered Blower
**Best For Small Areas
Maximum CFM: 520
Maximum MPH: 170
Engine Size and Type: 43 cc 2-stroke engine
Dimensions: 44 inches long, 17.5 inches wide, and 41.25 inches tall
Weight: 27 pounds
Noise Rating: 94 dB
Self-Propelled: No
Tire Size and Type: 7-inch airless front tire, 10-inch airless rubber rear tires
Swiveling Front Wheel: Yes
Fuel Capacity: 0.22 gallons
Warranty: 2-year limited warranty
Ideal for small areas where you don't need a ton of power but you also don't want to use a backpack or handheld leaf blower. At this price point, you're likely to spend just as much if not more to get an equivalent CFM/MPH, and why not save yourself some energy and go with a wheeled model?
At 520 CFM, you likely won't be able to blast away matted, wet leaf piles, but 170 MPH is definitely no joke. Dry leaves and sticks shouldn't be a problem, whether you want to blow them away or gather them up to shred in an electric leaf mulcher. As far as acorns go, you should also be able to blow them away as long as they're not nestled deeply in the grass.
The front wheel swivels easily on a smooth hinge, allowing for easy steering and turning on a dime. Especially when combined with the low weight, getting around the yard with this blower is a breeze.
One way Southland gets the air volume moving at such high speeds in a small frame is thanks to a 2-stroke engine. This is opposed to a 4-stroke engine you typically see in walk behind blowers. With a 2-stroke engine, the combustion happens more quickly and forcefully, so you get a higher output from a small, lightweight build.
But do be aware that 2-stroke engines come with a bit more maintenance on your part, including mixing gas and oil, and they are noisier than 4-stroke engines.
PROS
Impressive power in a small package
Lightweight and easy to use
Perfect for small properties
Swiveling front wheel
Inexpensive
CONS
Not ideal for large areas
2-stroke engine requires more maintenance
Who is a Walk Behind Leaf Blower Best For?
So why should you purchase a wheeled blower in the first place? After all, there are some surprisingly powerful handheld and backpack leaf blowers. Is it worth it?
Ryan Farley, CEO of Lawnstarter, says, "Investing in a walk-behind leaf blower can be a game-changer for those with larger properties, providing efficient and effortless leaf management."
Ryan continues with some specifics: "The increased power and airflow of walk-behind blowers allow them to tackle larger leaf piles and debris with ease. This means you can cover larger areas in less time, reducing the overall effort required to clear your property. Compared to handheld blowers, which are better suited for smaller properties and spot clearing, walk-behind models can save you a substantial amount of time and effort, especially when dealing with extensive leaf coverage."
Typically, caring for at least 1/4 acre lots call for a walk behind blower. But David Scott, CEO and co-founder of Top Reviews, adds that you don't have to have a massive property to benefit from a wheeled blower. "Even on smaller properties, a walk-behind blower's larger clearing path enables speedier coverage, decreasing the total time and effort required to clear leaves and debris when compared to a handheld blower."
Another reason to consider a walk behind blower is if you already deal with pain or weakness in your back, arms, or legs. Even lightweight handheld and backpack blowers can feel heavy over time, so pushing a wheeled blower can be much easier on your body. That's true no matter what your property size.
Shopping for the Best Walk Behind Leaf Blower
Now that you've had a look at the best models on the market, let's break down those specs I talked about.
Engine
The larger the engine, the greater airflow it can generate and the higher speed that air moves at. how much engine you should buy depends on your property and what kinds of debris you'll be dealing with.
I recommend buying the best engine/CFM/MPH your budget allows. After all, far more people regret purchasing an underpowered blower rather than the other way around.
Most of the blowers on the list today have 4-stroke engines, although the small Southland SWB43170 is a 2-stroke.
The main benefit of a 4-stroke engine is that there's no mixing oil and gas, have fewer emissions, and there tends to be less maintenance over time.
The main benefit of a 2-stroke engine is fast power delivery and better performance in an engine that weighs less.
Be sure to check your local ordinances to figure out if any types of gas engines are banned outright or only allowed in certain circumstances.
Handle Construction
Even though high-quality blowers often have anti-vibration features, the handlebar is still a key point for your comfort as the operator.
Look for an ergonomic design with grippy cushions. A handlebar that follows an ergonomic shape lets you keep your hands in a natural, relaxed position- which is easier on muscles. Cushioning with grip helps you maintain better control of the machine, and it also spares your joints and bones from bumps are jolts.
Weight
Wheels always make moving objects an easier task, but you'll still have to work harder to push a heavier machine around the work site.
The Southland SWB43170 weighs in at a featherweight 27 pounds, while the heaviest model, the Billy Goat F1002SPV is the heaviest at 143 pounds (but the self-propel pretty much negates that!).
Don't think about weight only in terms of pushing the blower while you're working- there's also the distance between your storage and the worksite to consider.
It doesn't have to be the deciding factor, but the weight is something you should be aware of and have a plan to address, if needed.
Warranty
A walk behind leaf blower is not a cheap purchase, so having a manufacturer-issued warranty lends some much-appreciated peace of mind.
A 2-year limited warranty is pretty standard. Of the models on our list today, the Billy Goat F1002SPV offers the longest warranty periods, at 3 years on the engine and 5 years on the housing. It's also nice that the company and all the manufacturing is here in the USA- that's extra reassurance that you'll get a timely resolution to any problems you might encounter.
Using a Walk Behind Leaf Blower Safely
Protecting your eyes, ears, and limbs are all important when using a powerful piece of equipment like a walk behind leaf blower.
Use Eye Protection
A large leaf blower's powerful engine can kick up dust, small sticks, and other debris and send it flying into your eyes. So safety glasses or goggles are a must here.
Here are some safety eyewear I highly recommend:
Wear Hearing Protection
According to The Centers for Disease Control, repeated exposure to sounds louder than 70 dB can cause permanent hearing loss. Most of the blowers on the list today are somewhere between 80 and 100 dB, so you need to protect your ears every time while using any of these machines.
While earplugs are better than nothing, an earmuff style that fits snugly over your entire ear is the gold standard.
3M Peltor X5A is an over-the-head earmuff that fits most adults comfortably and safely.
Be Aware of Your Surroundings
Don't underestimate the power of the fast-moving air. Pay attention to who and what is in your work area, and make sure to stay aware of your surroundings while you're working.
Gene Caballero, co-founder of Green Pal, has some wise insights to share.
"Never aim the blower toward people or pets, and be aware of loose debris that could become projectiles. The speed of projectiles coming out of leaf blowers can vary widely depending on the power of the blower and the size and weight of the debris."
Gene continues, "Some blowers can reach air speeds up to 200 miles per hour or more, and while the actual debris won't move at these speeds due to air resistance and its mass, it can still be launched at high velocities. This is why it's important to be cautious while using a leaf blower, especially around others, and to wear protective gear. Small stones or sticks can become dangerous projectiles if caught in the air stream."
Dress in Snug Clothing
Don't wear clothing that hangs loosely or has dangling pieces, like drawstrings. Loose clothing is a hazard for getting sucked into moving engine parts or wheel axles, so wear clothing that fits properly and close to the body.
Tie Back Long Hair
Long, loose hair runs the risk of getting tangled in moving engine parts or blowing into your face and obscuring your vision while you're working. Neither of those are good, so securely tie your hair back every time before you fire up the leaf blower.
Wear Sturdy Shoes
I recommend investing in high-quality outdoor work boots if you have a large property to care for and you'll be using your leaf blower often. You never know what kind of muddy slippery conditions you may run into, and many of these have a protective steel toe to prevent crushing injuries.
Well-made, sturdy athletic shoes are a second choice if you have to. Never use your leaf blower while wearing flip-flops or other open-toes shoes.
Frequently Asked Questions about the Best Walk Behind Leaf Blowers
Final Thoughts
With impressive power, a lockable/swiveling front wheel, handlebar-mounted wind direction control, and rugged construction, the Champion Power Equipment 200947 wins the race for the best walk behind leaf blower. And for the moderate price point, it might be more powerful than you thought you could afford.
Depending on your property and its conditions, you may need more or less power than the Champion Power Equipment model delivers. But that's ok- there are other excellent wheeled blowers to fit any need.
I'd love to hear your thoughts! Are there any other wheeled leaf blowers you'd recommend that aren't on my list? Do you have any other questions you're still wondering about? There's no better way to learn than from one another, so please feel free to share in the comments!