23 Impressive Ideas for Vertical Gardening Systems in 2023
(This post may include affiliate links. While buying items through these links won't increase your cost at all, we may receive a small commission that helps keep this site up and running. See our Terms and Conditions page for more details)
As much as I'd love to have a large in-ground garden, it's just not in the cards at this time in my life, and that's where vertical gardening systems come into play. Vertical gardening allows me (and you!) to convert those odd spaces into thriving gardens.
Some of the most common types of vertical gardening systems include stackable towers, converted wood pallets, arbors, trellises and hydroponic gardens made from PVC piping.
In this article, you'll see tons of practical vertical garden ideas you can purchase or build yourself. You'll also learn more about what vertical gardening is, which plants do and don't work well and answers to some questions you may be asking.
Let's get started!
23 Vertical Gardening Systems to Try This Year
There are so many vertical gardening systems out there that you're really only limited by your imagination. Let's look at some ideas to give you inspiration:
1. Hanging Vertical Planter Shelves
Here's one way I like to go vertical in my gardening- this simple hanging planter is housing just a few of my many houseplants. I love the contrast of the white shelves against the green foliage and my dark-blue walls. Plus, it's a perfect way to display several plants in a small area.
I'm also thinking about getting another one for an herb garden to hang on my wooden fence outside.
I really like this little planter, and if you want to get one for yourself, it's from La La Green.
2. Garden Tower 2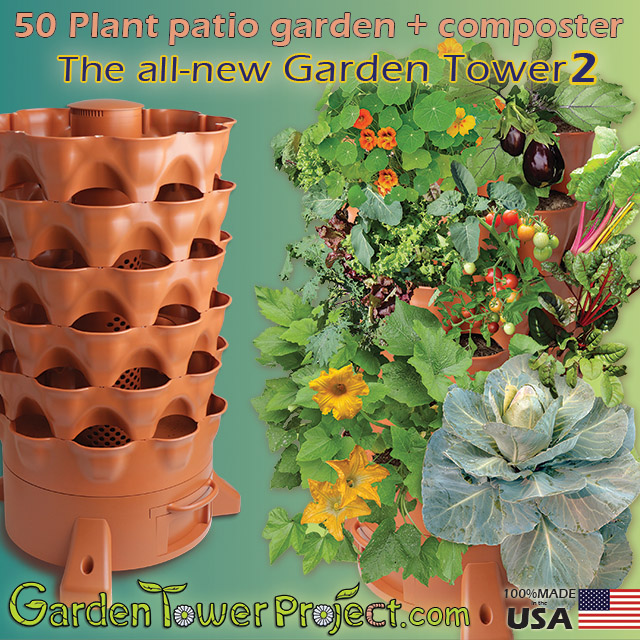 Pre-made vertical gardening systems take the guesswork out of your new garden and yield incredible results. In my opinion, you simply can't beat the Garden Tower when it comes to outstanding vertical gardening systems.
The Garden Tower can hold up to 50 plants and takes up about 4 square feet of real estate. Grow whatever combination you want of vegetables, greens, herbs or flowers. The tower uses a central tube with multiple holes to provide aeration, water and nutrients directly to the plant roots.
Garden Tower Project estimates that each planter should last for between 7 and 12 years, even if you live in an area with harsh weather conditions. And the Garden Tower is an American-made product!
3. Wooden Pallet Herb Garden
Wooden pallets are everywhere, but their final destination doesn't have to be the landfill. Instead, let your creativity run wild to create a beautiful and eco-friendly vertical gardening system.
To make a wall- or fence-mounted pallet garden like the photo above, here's a helpful video demonstration from Mitre 10 New Zealand:
Caution: Pallets that have carried loads of hazardous materials could leach harmful chemicals into plants. Also, some older pallets may have been treated with harsh chemicals to improve their durability or lifespan. 
It pays to play it extra safe when it comes to your food crops. Make sure to learn the pallet's history or choose another vertical gardening method to grow edible plants. 
4. Mounted Pallet Flower Garden
If you want to upcycle a pallet but don't know the background information, use it to house flowers instead.
To assemble this type of vertical pallet garden, choose a container that you can easily attach to the wood base, like tin cans or plastic bottles. Use a power drill with a 1/16 inch bit to make 2-3 drainage holes in the containers' bottom, then use screws to attach them to the pallet. Finally, fill your containers with potting soil and flowers. 
5. Wooden Frame Support
This could be a quick DIY project if you have some scrap wood hanging out around the house, and it's perfect for setting up indoors or outdoors.
Angling the plant pots outward is a key feature- it allows each plant to get good sun exposure and not get shaded by the plants above it. So be sure to arrange the bottom supports appropriately!
6. Vertical Wire Support
Climbing plants are a natural choice for vertical gardening- just start training them upwards and they basically take over all the work themselves.
By giving each plant its own support, this simple wire structure is perfect for keeping your climbing plants neat and tidy instead of a jumbled mess. And in short order, this structure will create a dense green living wall.
7. Felt Pocket Planter
If you're looking to create the striking look of a living wall, these planters are perfect! As your plants grow, they fill in the space between pockets, giving the appearance of a solid mass of beautiful greenery and blooms. 
You can find fabric planters with anywhere between four and 36 plant slots, so you shouldn't have trouble finding one that fits your vision.
8. Mounted Plastic Bottles
The bottles in this picture are 2-liter soda bottles, so they're the perfect size for herbs and small decorative plants. 
To create something with a similar look, try this:
Lean or securely attach a large piece of wood against a vertical surface
Wash your empty bottles well
Punch 2-3 small drainage holes using a thin nail or 1/16 drill bit with a power drill.
Attach your bottles to your piece of wood using screws
Fill your bottles with soil and plants
Wrap bottles in outdoor fabric if you want to dress them up a little more
If you're like me and have more empty bottles around the house than you know what to do with, I've got some ideas for you to try. Stop by our post on turning bottles into gardens to see for yourself!
9. Plastic Lattice
Lattice is easy to attach to the side of your house or a fence with appropriate screws, making a lightweight base for small pots of flowers or herbs.
If you'd rather keep your lattice garden portable, just set it on the ground and lean it against a vertical surface. However, you may need to provide some extra support to keep your lattice from collapsing. 
10. PVC Pipes
To make a planter similar to the one in the photo above, buy PVC piping and junctions at a hardware store. Decide how many holes you want, and use a rotary cutting tool to make your cuts. See this helpful guide from Instructables for more information on cutting holes in PVC. 
Next, lay your pipes out on the ground in the shape you want, then fit them together with the junctions. With a helper assisting you, raise your PVC framework up and secure it to your vertical surface. 
Fill small containers with potting mix and plants, and settle them into their new vertical home. 
11. Metal Frame
Metal frames provide excellent stability for your vertical gardening system without being too heavy. 
Convert a metal frame into a usable garden like the one in the picture in a few easy steps:
Collect small plastic containers.
Punch small holes near the top lip. The picture shows each container attached with just one hole, but you could also make two holes 1-2 inches apart.
Fill your containers with potting mix and small plants, and attach them to your frame using zip ties.
12. Wood Shelf
This is another way to recycle an empty pallet or use up old pieces of lumber. Lean the structure against your house, a balcony railing or a fence. Then add your favorite assortment of flowers, herbs or small vegetable plants.
13. Wall of Planter Boxes
To make a vertical garden like this, use a metal base structure and add individual planter boxes. This gives you the chance to grow each plant the appropriately sized container rather than one uniform size for all plants.
I really like the mix of tall and trailing plants, and it's a great way to mix edible crops with decorative ones.
14. Vertical Succulent Planter
Succulents are an adorable, cheery addition to your outdoor or indoor vertical garden. A wooden frame is the perfect way to display a large succulent collection without having to give up a lot of horizontal space.
Start by laying the frame flat and planting your succulents in your desired arrangement. These frames often use chicken wire to anchor the plants in place. Leave your frame flat for a few days to allow the plants to recover from transplanting and establish some new root growth.
This video from Gardening Australia demonstrates the process:
15. Succulent Wall Garden
If you've got larger succulent varieties, this full-sized wall planting makes a stunning and easy way to display your plants. The tall height and substantial structure really allow the plants to grow to their full potential, sometimes draping dramatically over the edges.
16. Tiered Garden Planter
Metal pans in a variety of sizes can transform into a gorgeous tiered planter with just a little creativity and effort.
If you want to build this vertical flower garden yourself, make sure to drill several drainage holes in each tier. Small plants, like the ones in the photo, look adorable, but trailing ones would also be a great choice.
17. Vertical Hydroponic Garden
Hydroponics lets you grow vegetable, herb or flower crops almost anywhere, indoors or out. These vertical hydroponic tubes use a pump to force nutrient-enriched water to the top of the tube, then the water trickles down to nourish each plant before being circulated through the system again.
While this may look like a complicated build, it's not that difficult or expensive to do at home. This video from Chris Loh is a good demonstration:
18. Metal Frame Trellis
Some plants naturally climb or trail in every direction. Giving them a vertical support structure keeps them healthier, more productive and growing in a manageable fashion. Also, vertical growing makes it much easier to gather your harvest without bending or wading through a sea of plants.
And any interlinking structure will work- even an old bed frame like the one in the photo!
19. Large-Scale Wall Garden
Vertical gardens don't have to be small, even when there's not much ground space to work with. This garden has the potential to produce higher yields than a traditional garden, with a footprint that's a fraction of the size.
Growing plants in individual containers also lets you pack them in more closely than you could in an in-ground plot. But the drawback is that the plants may not grow to their full potential when limited by a container.
20. Hanging Bottle Garden
If you've got some empty, clean plastic bottles, this is an easy, fast project. It's also very kid-friendly, and it can be a fun way to introduce children to gardening.
For small plants, like herbs or certain flowers, all you need is a little bit of soil, water and plenty of sun to grow a satisfying garden. This photo shows small bottles, but you could easily scale the size up with larger 2-liter bottles.
21. Gutter Mini-Garden
Sections of roof gutter can become a happy home for small plants. I like the combination of rustic wood and white plastic shown in this photo.
And you can tailor the size of your gutter garden to whatever space you have to work with- I've seen other versions that use several feet of gutter mounted to a wall or fence.
22. Whimsical Terra Cotta Garden
You typically see terra cotta pots of flowers or herbs on a porch, deck or other horizontal space, but I just love this creative idea that arranges the pots vertically.
In this structure, you get four pots full of plants in the footprint of a single pot, so it's a fantastic way to maximize limited area. And thanks to the angle of each pot, all your plants get plenty of sunshine and rainwater.
23. Garden Arbor
If you long for a shady garden nook to relax in, try a climbing plant on a vertical structure, like this arbor.
Morning glories are the flower of choice here, and they will certainly do the trick of creating a dense wall of green on your arbor! Dedicating an arbor is also a great way to manage the sometimes aggressive growth of climbing plants, so they don't take over your entire garden.
What is Vertical Gardening?
The concept behind vertical gardening is simple: Growing your crops in a vertical orientation rather than a horizontal one. In other words, vertical gardening uses a taller space rather than a wider one. 
Vertical gardening systems allow you to convert irregular spaces into thriving gardens:
The exterior walls of your home
A fence
Small sunny patches in your yard
A patio or deck
In some cases, indoors by a sunny window
Since they require so little ground space, vertical gardens can be a perfect solution for people who live in densely populated urban areas. According to the University of Michigan's Center for Sustainable Systems, more than 80% of the United States population lives in an urban setting, and that number is only expected to grow in the next few decades. 
And thanks to a vertical garden's taller height, they're also ideal for people who have disabilities that make kneeling or bending a challenge. 
Best Plants for Vertical Gardens
Simply by their nature, most vertical gardens have less growing space per plant than traditional in-ground gardens. Because of this, plants that naturally stay more compact tend to do the best when grown vertically.
A few examples of edible plants to grow in your vertical garden include these:
Leafy greens
Lettuce
Herbs
Small pumpkins and squash
Cucumbers
Strawberries
Peppers
Pole beans
Peas
When it comes to flowers, the options are almost endless. But you'll likely have to stick to annual flowers- most perennials have bulbs/tubers/rhizomes that just don't have enough space in a vertical set-up.
Here are just some of the flowers that flourish in a vertical system:
Petunias
Alyssum
Pansies
Violas
Ferns
Lantana
Morning glory
Clematis
Impatiens
Begonia
Plants to Avoid in a Vertical Gardening System
While there are a wealth of plants you can grow vertically, not every plant is a good candidate. You're best off keeping plants with a sprawling growth pattern on the ground, and those that form a deep taproot also won't thrive in a vertical setting.
Here are a few examples of plants to avoid growing vertically:
Zucchini
Cabbage
Tomatoes
Brussels sprouts
Large pumpkins and squash
Potatoes
Beets
Carrots
Frequently Asked Questions about Vertical Gardening Systems
Final Thoughts
I'm a big fan of vertical gardening- it makes growing accessible for so many folks who can't have a traditional garden. I've used some of these myself, and I've got more on my list for next year! As these examples of vertical gardening systems show, you don't need a vast amount of space to produce a satisfying harvest each year. 
Whether you prefer a Garden Tower 2 or a DIY project, there's a vertical garden solution for just about anyone. So take a second look at those odd spaces you may have thought were unusable, and get to growing! 
We want to know- Have you ever tried any kind of vertical gardening? What kind of spaces do you think you could transform? We learn best as a community of growers, so let us know about your thoughts and experiences in the comments!