Thanks to a compact design that can tackle a variety of tasks, a front tine tiller is an essential tool for many home gardeners. If starting a small-to-medium new garden, doing the annual springtime soil turning or ripping up summer weeds between garden rows is on your to-do list, a front tine tiller can save you hours of work with a shovel or a hoe.
In this article, you'll learn the details of our 8 choices for the best front tine tiller. You'll also learn about about the key features to consider when shopping so you can choose the model that's right for your needs.
If you're in a hurry, here is a quick rundown of the models we'll be looking at today:
| | | | | | | | | |
| --- | --- | --- | --- | --- | --- | --- | --- | --- |
| | | | | | EVEAGE 18-Inch Electric Tiller | Splendor Front Tine Tiller | | |
| | | | | 140cc Briggs and Stratton engine | | | | |
| | | | | | | | | |
| | | | | | | | | |
| | | | | | | | | |
| | | | | | | | | |
| | | | | | | | | |
| | | | | | | | | |
| | | | | | | | | |
| | | | | | | | | |
Let's get started!
What is a Front Tine Tiller?
A front tine tiller is a mid-sized piece of garden equipment, usually weighing between 40 to 150 pounds. The tines are located in front of the wheels and directly below or just in front of the engine housing, and they typically rotate in a forward direction, although some models also feature reverse tine rotation.
Large front tine tillers are capable of breaking new ground for sizable garden plots, and smaller models are ideal for mixing and turning already-broken soil.
Most front tine tillers have gas engines with somewhere between 46 and 212cc displacement. There are also electric models on the market, but these tend to be smaller and best suited for small jobs and routine garden upkeep.
Besides the front tine models, there are also rear tine tillers and cultivators.
Rear tine tillers have the most power and are suitable for tough, heavy-duty jobs like creating a large new garden on virgin soil and working with stony or compacted ground. While there is some overlap in function, there are differences between front tine and rear tine tillers.
Cultivators are sometimes known as "tillers," but there are several distinctions between cultivators and tillers that warrant careful consideration. They are the lightest-duty models with shorter tines and smaller engines or motors. They may not have any wheels at all, and their main purpose is to mix or aerate loose soil.
8 Best Front Tine Tillers in 2023
1. Earthquake Versa 20015 Front Tine Tiller
**Best Overall Front Tine Tiller
Engine size: 99cc 4-cycle Viper Engine
Tilling width: 21 inches (also adjusts to 16 and 11 inches)
Tilling depth: 11 inches
Tine rotation: Forward rotation
Transmission: Gear driven
Number of tines: 4
Weight: 75 pounds
Tire size and type: 8-inch wheels with airless tires
Warranty: 5-year limited warranty
A balanced compact design and adaptable functions are the two main reasons why the Versa from Earthquake takes our top spot as the best front tine tiller for home gardeners.
The Versa has an intentionally low-profile construction, with the engine housing sitting just a few inches above the ground while the tiller is in use. This helps produce a low, stable center of gravity that takes a lot of the pressure off you to keep your tiller moving forward instead of bouncing wildly. It also makes the Versa easy to turn at the end of rows or when going around obstructions.
Earthquake built the Versa with an adaptable design that makes this both a true tiller and a cultivator. This lets you use the Versa more in tighter spots, such as between garden rows or individual plants, to turn in compost/amendments or get rid of weeds mind-season. So it's nice that you can use your tiller for multiple purposes all season long.
While the tine size stays the same on the Versa, you have the option of removing the side dirt spray shields and outer tine set to reduce the tilling width from 21 inches to 16 or 11 inches. Use four tines to till at 21 inches, three tines achieve 16 inches and two tines for 11 inches in width.
The Versa uses a gear-driven transmission, which tends to be the most durable and reliable transmission type compared to chain or belt drives. Welded forged steel tines dig deeply into the ground to churn soil up to 11 inches deep.
The rear drag bar lets you set your tilling depth to one of four settings. When working with unbroken sod or tough ground, use a shallow setting first and go deeper on subsequent passes.
One downside to point out: The wheels have a stamped traction pattern, but it's definitely on the shallow side. Especially when combined with the hard plastic wheel material, you may have a hard time getting good traction on very loose soil. However, the powerful forward motion from the tines should be enough to propel you along without too much trouble.
PROS
Versatile design for multiple functions
Low profile is stable and maneuverable
Deep tilling path
Gear driven transmission
Strong tines
Long warranty period
CONS
Wheels may not have great traction in all conditions
2. Champion Power Equipment Front Tine Tiller
**Best Heavy-Duty Front Tine Tiller
Engine size: 212cc 4-stroke Champion engine
Tilling width: 22 inches (also adjustable to 16 inches)
Tilling depth: 8 inches
Tine rotation: Dual rotation
Transmission: Belt driven
Number of tines: 4
Weight: 119 pounds
Tire size and type: 8-inch wheels with airless tires
Warranty: 2-year limited warranty
If your garden or landscaping project includes busting sod or breaking hard, compacted earth, this tiller from Champion has the brawn and size to get the job fast.
A powerful 212cc engine powers this tiller's performance, and the 22-inch tilling path lets you cover more ground on each pass you make, shaving time off your overall task. And if you've got some tighter spaces to cultivate, take off the outer set of tines to reduce that tilling width to 16 inches.
Champion constructed the tines from hardened steel for added durability and power. At 13.8 inches long can dig up to 8 inches into the soil. While that's not as deep as some other models can reach, it should be sufficient for standard garden planting.
One outstanding feature of this tiller is the dual tine rotation capability. When you have forward mode engaged, the tines spin in a forward (clockwise) direction, which is the standard direction for front tine tillers. However, you also have a reverse function that switches the time rotation to reverse. This is incredibly helpful for letting you back out of corners or other tight spaces, or for getting a second pass on an especially difficult area.
What's even better, the forward and reverse levers are both conveniently located on the handlebars for easy access.
One thing to point out: Reverse mode is NOT a counter-rotating tine setting; it's only meant to be used for a short period, not for long stretches. If you're looking for a tiller that has true counter-rotating tines, you'll need a rear tine model with that capability. We've covered several fantastic models in our post on powerful rear tine tillers, so stop by to check it out.
Another thoughtful feature is the variable speed setting, located just beneath the hand grips on the right side. This allows you to tailor your speed to the ground conditions you're working with- slow down over tough sections, and speed up over the smoother spots.
PROS
Powerful engine performance
Hardened steel tines can handle tough conditions
Dual tine rotation
Forward/reverse modes located on handlebars
Variable speed control
3. Tazz 35312 Front Tine Tiller
**Best Budget Front Tine Tiller
Engine size: 79cc 4-stroke Viper engine
Tilling width: 21 inches (also adjustable to 16 inches and 11 inches)
Tilling depth: 11 inches
Tine rotation: Forward rotation
Transmission: Gear driven
Number of tines: 4
Weight: 75 pounds
Tire size and type: 8-inch wheels with rubber tires
Warranty: 3-year limited warranty
When you've got a smaller budget to work with but still want plenty of power to get the job done well and fast, this tiller from Tazz is a winner.
The Tazz brand is owned by Ardisam, which is also the parent company that owns the Earthquake brand. And this tiller has a couple common features as the more expensive Earthquake models.
The transmission is bronze gear driven, and both the bronze material and gear-controlled drives are known for their reliable performance and durability over time. So it's a nice feature to see in a more affordable tiller frame.
This tiller also features a Viper engine, which is known for quality builds and performance. At 79cc displacement, the engine is a bit smaller than some other similarly-sized models, but it also has the benefit of being lightweight.
Strong forged steel tines that dig an impressive 11 inches down into the soil. With all four tines, your tilling path is nice and wide at 21 inches. When you're working with tighter spaces, remove one or both outer tines to reduce that working width to 16 or 11 inches.
So while this tiller's smaller engine doesn't pack quite enough power for breaking tough new ground or working large areas, there are some very attractive features here for small to mid-sized gardens.
The initial assembly process is one drawback to point out. The drawings in the instructions are somewhat unclear, although that's to be expected to some degree in black-and-white schematics. But do plan on dedicating some time to getting your tiller up and running.
PROS
Affordable price point
Perfect for small to medium gardens
Sturdy gear-drive transmission
Deep tilling capability
Lightweight but powerful engine
4. Earthquake Badger Front Tine Tiller
**Best Front Tine Tiller for Easy Handling
Engine size: 140cc 4-cycle Briggs and Stratton engine
Tilling width: 21 inches (also adjusts to 16 inches and 11 inches)
Tilling depth: 11 inches
Tine rotation: Forward rotation
Transmission: Gear driven
Number of tines: 4
Weight: 102 pounds
Tire size and type: 11-inch pneumatic tires
Warranty: 5-year limited warranty on tiller, 2-year limited warranty on engine
Simply due to the nature of their forward-tine construction and lighter weight, front tine tillers are notorious for bouncing and bucking. Earthquake seeks to address that problem with their innovative swiveling tail/wheel assembly.
In the product photo above, the wheels are in transport mode- under the engine housing. This allows you to lift the tines off the ground and push the Badger wherever you want to go without much effort.
When you reach the worksite, lift the back of the tiller slightly off the ground to engage tilling mode- the wheels will swivel backward several inches and the drag stake will also drop down. By swiveling the wheels backward, the Badger's frame drops down and the overall length increases- lowering the center of gravity for a more stable operation that's easier to control.
It's a pretty clever design, and one that's stood the test of time- the Badger was introduced into Earthquake's tool line way back in 2000! The fact that it's been on the market for over 20 years is a good indicator of the quality.
Aside from the swivel wheel assembly, the Badger also boasts some other helpful features.
The wheels themselves are a generous 11 inches, also helping better distribute weight and rolling easily over bumps and ruts. Earthquake made the tires airless to eliminate annoying problems with flat air tubes, and the aggressive lug pattern helps you get more traction on the ground.
The four tines are made from heavy-duty forged steel, and they dig nice and deep into the ground- 11 inches deep at the most aggressive setting. When you use all four tines, your tilling path is 21 inches wide, but you can remove one or both outer tines to narrow your tilling path to 16 or 11 inches.
The one thing to point out is that while the longer wheelbase is excellent for maneuverability while moving forward, it can make turning at the end of rows a bit more challenging.
PROS
Pivoting wheel assembly for excellent stability
Sturdy forged steel tines
Long time on the market
Adjustable tilling width
Generous warranty period
CONS
Long wheelbase makes it harder to turn
5. EVEAGE 18-Inch Electric Tiller 
**Best Electric Front Tine Tiller
Engine size: 13.5-amp electric motor
Tilling width: 18 inches
Tilling depth: 9 inches
Tine rotation: Forward rotation
Transmission: Not stated
Number of tines: 6
Weight: 23 pounds
Tire size and type: 6-inch wheels with airless tires
Warranty: 1-year limited warranty
Electric tillers often have the reputation of being something along the lines of puny, glorified shovels, but some models can pack a surprising amount of power. And this tiller from Eveage brings not just a robust motor but an 18-inch tilling width that rivals gas models- all with no gas, oil, fumes or engine repairs.
The 12V, 13.5-amp motor powers six four-pronged tines that spin at an impressive 360 RPM. That's more than enough power to turn over soil in raised beds and previously cultivated gardens.
This tiller is most ideal for maintaining an existing small-to-medium garden. But if you need to break ground for a new garden, you shouldn't have too many problems as long as you remove stones and rip up existing grass with a sod cutter.
Each of the six tines has four 8-inch steel prongs with a rust-resistant treatment. The tines dig up to 9 inches into the ground, and the 18-inch tilling path means you can cover more ground on each pass.
Eveage also included a few other handy features on this tiller. The two-step starter prevents you from accidentally powering the tiller on before you're ready, and the motor has a temperature sensor that prevents overheating and shorting out. When it's time to store your tiller for the off-season, the handle folds down compactly over the motor housing.
One other nice aspect of corded electric tools is that they tend to be some of the least expensive models on the market. And that's true here too- while pricing varies between retailers, this tiller won't set you back by too much.
This is a corded electric model, so you'll need an outdoor extension cord to power the tiller. If you need 100 feet in length, this heavy-duty Southwire cord is a great option. But keep in mind that you're limited by the cord length with an electric tiller, so it's a good choice for gardens that are close to your power source.
PROS
Powerful electric engine
No batteries or gas engines
Wide tilling path and deep tilling depth
Folds down for storage
Affordable price point
CONS
Limited by length of extension cord
6. Splendor 212cc Front Tine Tiller
**Best Front Tine Tiller for Large Areas
Engine size: 212cc 4-stroke engine
Tilling width: 33.5 inches (also adjusts to 22 inches and 13 inches)
Tilling depth: 13 inches
Tine rotation: Forward rotation (also has reverse mode)
Transmission: Chain + belt driven
Number of tines: 6
Weight: 135 pounds
Tire size and type: 7-inch wheels with airless tires
Warranty: 2-year limited warranty
For large gardens that you want to cover as quickly as possible, this beast from Splendor has a whopping 33.5 inches in tilling width- shaving some serious time off your overall job! Not only that, the long tines dig as far as 13 inches deep, which leaves you with plenty of well-turned soil to plant anything you have planned for your garden.
And with the robust 212cc engine, you've got plenty of power for busting through those large areas.
Another nice feature of this tiller is the forward/reverse capability. If you get into a tight corner or want to back up to give an especially tough area a second pass, engage the reverse function on the left handlebar. This changes the tine rotation to the opposite direction, making it easy to back up without having to make a three-point turn or shut off the engine.
Just to be clear- forward/reverse functions do not make this tiller a true dual-direction model, where you can use the tines in either standard forward rotation (clockwise) or in counter-rotation (counter-clockwise). The reverse setting is meant to be used for short periods, not for long stretches of tilling.
A thoughtful feature that Splendor included is the ergonomic angle of the hand grips. Instead of being straight back from the tiller, they flare out at a slight angle, which more closely mimics the natural hand/arm position to help cut down on muscle fatigue.
All in all, this tiller is a beast that can handle large gardens with ease and comfort on your part. But Splendor is a lesser-known brand and this tiller hasn't been on the market that long. So how it holds up over time remains to be seen.
PROS
Massive tilling width
Deep tilling capability
Forward/reverse functions
Comfortable handgrips
Powerful engine
7. Earthwise TC70016 Corded Electric Tiller/Cultivator
**Best Small Front Tine Tiller
Engine size: 13.5-amp electric motor
Tilling width: 16 inches (also adjustable to 11 inches)
Tilling depth: 8 inches
Tine rotation: Forward rotation
Transmission: Not stated
Number of tines: 6
Weight: 34.8 pounds
Tire size and type: 6-inch wheels with airless tires
Warranty: 2-year limited warranty
For smaller jobs close to a power outlet, you really can't beat the convenience of just plugging your machine in and getting to work without any gas or batteries. For tasks like those, this little tiller from Earthwise is a nice option that packs more power than you might think.
The electric motor draws 13.5 amps, which is roughly equivalent to many electric lawn mowers. Six tines rotate at 360 RPM, which is pretty aggressive at tearing through the soil. If you have a tighter space to work in (in between plants/garden rows or in cramped corners), remove the outer two tines to get a working width of 11 inches.
This tiller is capable of working the soil up to 8 inches deep. To get that max depth, you'll have the best results if you pull the tiller backward rather than pushing it forward. Moving in a backward direction uses traction to better advantage, allowing you to dig more deeply with each pass. This also reduces the chances of the tiller bucking or jumping, which is especially helpful since the machine's light weight doesn't help anchor it to the ground very well.
Earthwise states that the max extension cord length to safely run this tiller is 100 feet. Use a 12/3 heavy-duty cord if you need that much length, and make sure you have an outlet that can handle that amperage if there are any other draws on the circuit.
While a corded electric design eliminates the hassles of gas or running out of battery mid-job, there is one unavoidable drawback: the extension cord itself. Be sure to keep close track of exactly where the cord is at all times to avoid running it over or tripping on it.
PROS
Ideal for small jobs and regular garden maintenance
Surprisingly powerful for a small unit
No cost or hassle with gas or engines
Lightweight and easy to transport
CONS
Power cord can get in the way
8. Troy-Bilt Colt Front Tine Tiller
**Best Front Tine Tiller Made in USA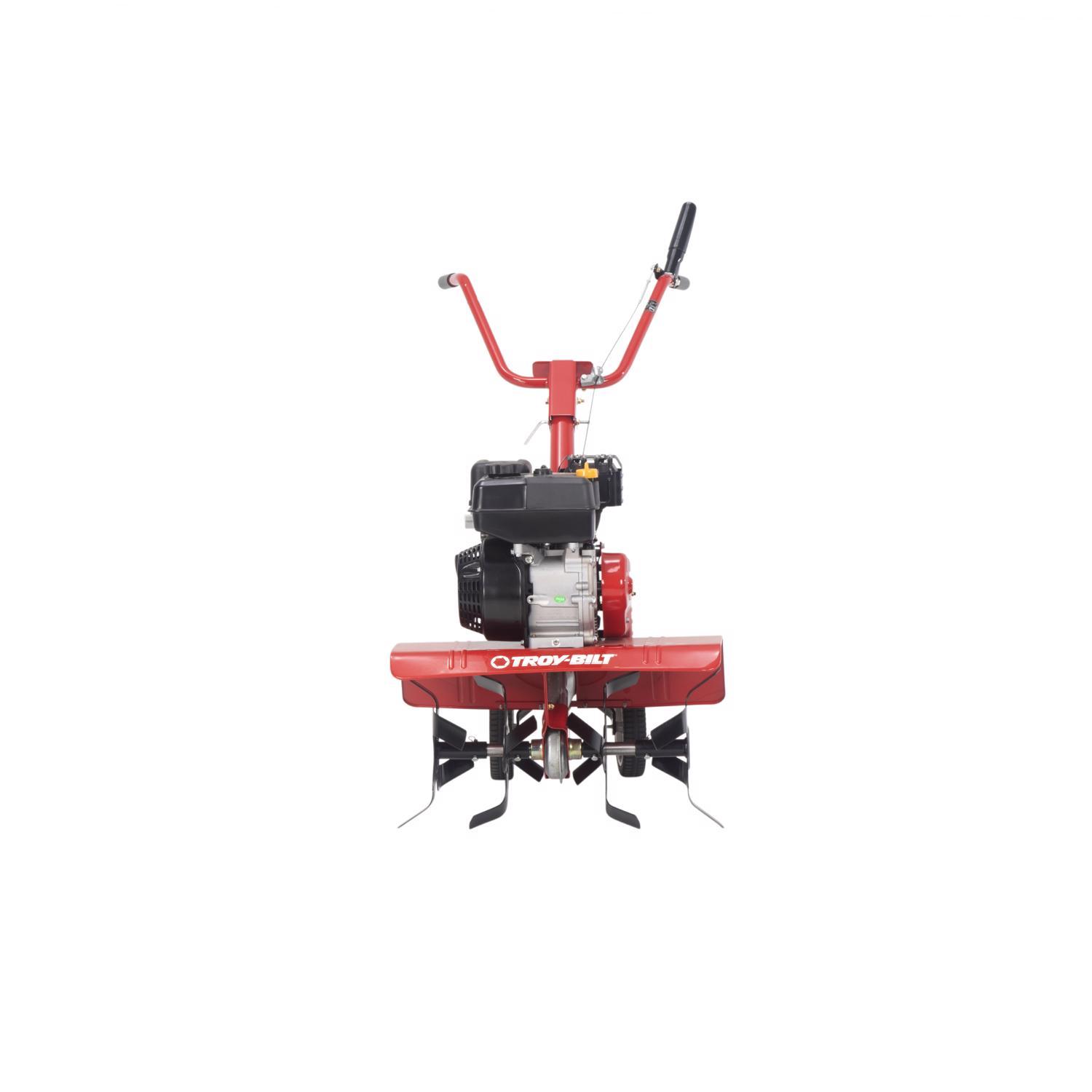 Engine size: 208cc 4-stroke Troy-Bilt engine
Tilling width: 24 inches (also adjusts to 22 inches and 13 inches)
Tilling depth: 7 inches
Tine rotation: Forward rotation
Transmission: Chain driven
Number of tines: 4
Weight: 136 pounds
Tire size and type: 8-inch wheels with airless tires
Warranty: 2-year limited warranty
If buying products made in America is a priority for you (it is for me too!), the Colt tiller from Troy-Bilt meets that requirement- and has great performance as well.
Troy-Bilt develops their product designs and performs builds/testing in Ohio, Mississippi, Arizona and Texas. Although they do source some foreign parts and a few of their products are manufactured overseas, the Colt comes from right here in America.
With 208cc displacement, the large engine has enough power to tear through the ground up to 7 inches deep. A rear drag stake helps you maintain control and keep the powerful engine from getting too far ahead.
The full working width is 24 inches, which is a few inches larger than the majority of front tine tillers, so you can maximize on each pass and save yourself from work time. If you'd like to use your Colt in tighter spaces, you can also remove tines to reduce the width to 22 or 13 inches.
One clever feature is the telescoping handlebar height. Instead of stretching up or hunching over while you work, you can set your handles to a comfortable height.
But one thing to be aware of is that Troy-Bilt recommends using the Colt in gardens that are already established, not for breaking ground to start a brand new garden plot.
PROS
Made in USA
Powerful engine
Adjustable handlebar height
Wide tilling path
CONS
Not recommended for breaking new ground
Shopping for the Best Front Tine Tiller
Now that you've seen some front tine rototillers in detail, let's look at how the features affect you and the shopping process.
Engine or Motor Size
Tilling Width
Tilling Depth
Transmission Type
Tine Rotatation
Engine or Motor Size
What kinds of tilling jobs do you have ahead of you? How large is the project? What type of soil do you have to work with?
These questions can all help you decide how much tilling power you need to invest in.
Gas engines provide the most power, hands down. If you have a medium-sized garden, an engine with at least 99cc displacement should be able to handle it. For spaces that are a little larger or have tougher conditions, you'll have the best luck with 200cc+ engines.
If you're starting a small garden, have raised beds to prep or you'll mostly be using your tiller for weed removal/tilling in soil amendments, a tiller with less power should get the job done just fine. Look for a gas engine up to 79cc, or an electric motor with 12-15 amps.
Coleman Crosby, a licensed landscape contractor and landscaping expert at Yardzen, offers his insight on how much power to buy. "Better to err by buying a more powerful tiller than you may need over one that's not powerful enough. Light duty tillers will just scratch the surface, bounce around, and not penetrate dense, compacted, or unopened ground."
Tilling Width
Many people use a front tine tiller to work soil in hard-to-reach or tight areas that a bulkier rear tine tiller just can't get to. If that's you, a model with a narrow profile is a great option.
On the other hand, if your primary objective is to till up a garden plot in the least amount of time possible, a tiller with a generous width is ideal.
But many tillers also have adjustable widths, so you don't have to choose between a narrow or wide profile. On these tillers, lock pins hold the outer tines in place but are easy to remove when you need to fit into a smaller area.
Tilling Depth
The tilling depth is how far the tines dig into the ground to turn the soil over. You'll need at least 6 inches of well-tilled soil for most garden plants to grow well, and most tillers can handle that with no problem.
For planting trees, shrubs or other deep-rooted plants, you typically need a hole at least 12 inches deep. If that describes you, purchasing a tiller with an 11-inch or greater working depth can save you from spending some serious time with a shovel.
Most tillers have an adjustable depth setting controlled by a rear drag stake or bar. You can slide the stake to a higher position to till more shallowly on first passes, then lower the stake to dig more deeply on subsequent passes.
Transmission Type
Tillers come in three transmission types:
Gear driven
Chain driven
Belt driven
Of the three, gear driven transmissions tend to have the best performance and lifespan. However, they also require the most maintenance to ensure each gear stays properly lubricated and tightened. And due to their precision nature, it may be hard to do any repairs or replacements yourself at home.
Chain driven transmissions are also durable and perform well- in fact, some people prefer a chain drive's performance over a gear drive. There are fewer moving parts to care for in a chain drive vs a gear drive, but you'll still need to keep things oiled, and there is a risk that a chain can snap or slip off its track.
Belt driven transmissions also perform well, but they are the most vulnerable to slipping out of place or breaking. However, the replacement parts are less expensive and the repair jobs themselves also tend to be the easiest for a home gardener to do themselves. So if you like to tackle repairs on your own, this might be the best option.
Tine Rotation
All front tine tillers use standard rotating tines, which means that the tines spin forward or in a clockwise motion. This is as opposed to counter-rotating (counter-clockwise) tines that many rear tine tillers have.
Counter rotation produces more traction and allows the tines to dig farther down into the ground. While forward rotation doesn't till as deeply into the ground, it does provide a fine, even surface that's perfect for planting.
A few models also have a reverse setting, which spins the tines in the opposite direction when you engage the reverse gear. However, this is a convenience feature only- it lets you back out of spaces or take another pass over a rough area without having to turn around. It is not meant to be used for more than a few feet of space at a time, and they are not true counter-rotating tines.
When to Use a Front Tine Tiller
Thanks to their smaller size and easier handling, a front tine tiller is a versatile garden tool that serves various purposes for the home grower. It's a great choice for tackling annual tasks like these:
Turning old plant matter into the ground in the fall
Working the soil for spring planting
Tilling in compost, fertilizer or other amendments
Weeding between garden rows and individual plants in the mid-season
But some of the heavier front tine models are capable of busting sod or slicing through heavy grass roots. This video from Jim O'Donnell demonstrates this:
If you're planning on putting in a large new garden, you may want to invest in a large, powerful front tine tiller. Or it may be better to rent/borrow a rear tine tiller to prepare your new plot and purchase a smaller front tine model for ongoing garden maintenance.
Related: We've put together a list of our favorite rear tine tillers on the market today. If you think buying one might be better suited for your task, stop on by!
Safety Tips for Using a Front Tine Tiller
A front tine garden tiller is a sizable machine, and whenever you have sharp spinning objects and a heavy weight, you need to use appropriate caution and safety equipment.
Eye Protection
There's always the risk that your tiller could kick up a stone or other object, so wear safety glasses to protect your eyes from flying debris.
Regular vision eyeglasses are not enough protection here- they still leave the sides of your eyes open and vulnerable. Get a pair of safety glasses to fit over your standard frames.
Hearing Protection
According to the Centers for Disease Control, prolonged exposure to sounds over 70 dB can negatively impact your hearing. Noise levels for front tine tillers vary by model, but most gas engines produce at least 75 dB- and some can be quite a bit louder than that.
While earplugs can help cut down on noise exposure, over-the-ear style ear covers provide the best protection.
Sturdy Shoes or Boots
Loose soil can make it hard to keep your footing, so make sure to wear sturdy shoes whenever you're using your tiller.
Sturdy work boots are your best bet since they provide tall, protective ankle support/covering and have an aggressive tread pattern for enhanced traction.
Athletic shoes can also work, but make sure they have a strong lace closure and good sole tread.
Never wear sandals or other open-toed shoes while working with a tiller, or really, while working in the garden at all.
Gloves
Gloves can help cushion the shock your hands may take from a bouncing, jostling tiller. And a pair with good palm grips can also help you maintain a better handle on your tiller.
Maintaining Your Front Tine Tiller
The specific maintenance routine you'll need to follow for your tiller depends on the build, so always consult and follow the manufacturer's directions closely.
Clean all dirt off the tines and apply oil after use, making sure to thoroughly dry the tines and components before storage to help prevent rusting.
Here are some other routine maintenance tasks you can expect to do for a gas front tine tiller:
Engine oil changes
Gearbox oil changes
Clean/replace air filter
Check/tighten belts
Check/tighten screws, nuts and washers
Check for cracked/damaged hoses
If you choose an electric tiller, your maintenance tasks get cut down significantly. Don't allow your tiller to get excessive water exposure, and check all power connections for frays or damage.
Frequently Asked Questions about Front Tine Tillers
Final Thoughts
We hope you've gotten a lot of value out of this list of the best front tine tillers. Buying a tiller is a big investment, not just in money but also in your time and energy- you want a tool that lets you get the work done fast and well.
Spend some time considering what your gardening goals look like, and then choose a tiller based on that. Just remember- you may regret buying a tiller that has too little power than one that may seem a bit overpowered. And who knows- as you build on your garden successes every year, you may also expand the garden size over time. So plan with the future in mind!
We want to hear from you! Do you have any more questions about front tine tillers? Is there a model you love that you'd add to the list? We all learn best from the thoughts and experiences of fellow gardeners, so please feel free to share in the comments!